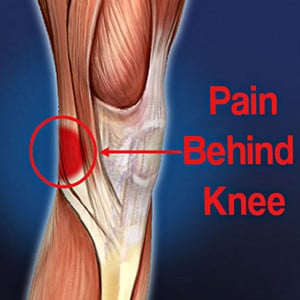 5 Pain Behind Knee Causes with Relief Tips
The causes of pain behind knee are quite extensive and the relief for those causes vary from problem to problem. Nevertheless, there are 5 pain behind knee causes with relief tips that possibly might help you alleviate some discomfort.
Baker's Cyst
Baker's Cyst, also known as a Popliteal Cyst, is a swelling in the popliteal space (space in back of the knee) which causes stiffness and pain behind knee. The pain usually gets worse when fully flexing or extending the knee as well as moving about.
Causes – Inflammation of the knee joint due to various types of arthritis and a knee injury due to a cartilage tear.
Relief Tip – Often Baker's cyst will resolve on its own without needing treatment. However, some self-care techniques may be effective, such as: Non-Steroidal Anti-Inflammatory Drugs (NSAID) Ice, Resting, Crutches and Compression Bandages.
Meniscus Tear
The meniscus is a rubbery, C-shaped disc that cushions your knee. Pain behind knee from a Meniscus Tear is quite common and is usually caused by twisting or turning quickly, often with the foot planted and the knee is bent.
Causes – Lifting heavy objects, sudden changes in direction, direct impact in a contact sport and excessive strain on the knees.
Relief Tip –  A moderate tear may only require RICE (rest, ice, compression and elevation). Knee braces can be helpful as well (Check out the knee brace guide). A severe tear may require physical therapy or surgery to repair or remove the meniscus. Click here to read about RICE.
Hamstring Injury
A Hamstring Injury is a common and sometimes excruciating form of pain behind knee injury. It happens when one or more of the three muscles that run along the back of the thigh gets pulled, strained or injured.
Causes – Quick acceleration activities when running or initiating running activity.
Relief Tip – Most minor to moderate hamstring injuries heal with some rest, ice, compress, Advil and leg elevation.
Patellofemoral Pain Syndrome
Patellofemoral Pain Syndrome (Runner's Knee), frequently occurring in teenagers or young adults is a pain behind knee injury that occurs when an unaligned  kneecap (patella) irritates the femur grove or thighbone.
Causes – Overuse, injury, excess weight, a kneecap that isn't properly aligned or changes under the kneecap.
Relief Tip – Avoid activities that might make symptoms worse. Ibuprofen, ice, bandages and rest will also alleviate the pain. Click here to read more about runner's knee.
Tumors
Pain behind knee from non-cancerous knee bone tumors include non-ossifying fibromaunicameral bone cysts, osteochondromas, giant cell tumors, enchondromas and fibrous dysplasia. Cancerous knee bone tumors are osteosarcomas and those caused by multiple myeloma or Ewing's sarcoma.
Causes – The causes of bone tumors are unknown. Possible causes are genetic, radiation and trauma.
Relief Tip – Seek professional attention from your healthcare provider because benign and malignant tumors usually have to be surgically removed to relieve pain.
Interested in knee pain relief using Rest, Ice, Compress & Elevate? Click here.